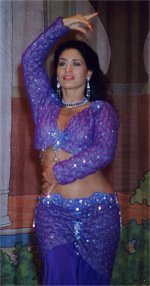 suzanna@suzannadelvecchio.com
970-245-1311 or 303-399-2622
2341 Rattlesnake Ct. Unit C
Grand Junction, CO 81507
About Suzanna...
Suzanna Del Vecchio is an Oriental Dance Artist whose work is celebrated internationally. She is a true professional seriously dedicated to the art of the dance, in which she has been totally involved for over 25 years. She teaches and performs internationally as well as nation wide, and has four videos on the International market. In 1988 Suzanna created an annual dance retreat in the Colorado Rocky Mountains and dancers throughout the world continue to come and study with her at this annual event.
Suzanna is considered an innovator in her field of Oriental Dance and is gaining recognition within the mainstream dance community as well. Her choreographies have been selected by members of the Colorado Dance Alliance to be included in their Colorado Choreographers' Showcase for three consecutive years. In February of 1998 she was invited and participated in the University of Wyoming's dance department's national Dance Festival as a Master Teacher. In December of 1997 she was awarded "Best Choreography" for her dance entitled "Passion" from the G.A.M.A.L. Academy Awards of Middle Eastern Dance, and in August of 1998 she was awarded "Choreographer of the Year" from the International Academy of Middle Eastern Dance. Suzanna also enjoyed geat success during her Fall, 1997 performance tour of Germany, with her powerful presentation of "Fire Dance", a dance she created fusing Arabic and Spanish movements, to the music from the "RiverDance" C.D. Her performances are soulful and always artistically presented. Suzanna was awarded "Dancer of the Year" by the International Academy of Middle Eastern Dance in Los Angeles in 2001.
As a teacher, Suzanna's familiarity with body alignment and movement awareness techniques, combined with her knowledge of hatha yoga, allows her to convey means to achieve enhanced flexibility, body alignment and use, and self-awareness. Emphasizing technique, combinations, and emotional interpretation, she incorporates diverse dance movements in her performances and teaching. She likes the sharp hip movements, grace and feminine style of the Egyptian Oriental dance, but also enjoys working with lots of spins and turns, and remains one of the few top dancers to promote strong veil and floor dancing. Suzanna is one of those rare teachers from whose classes and workshops, dancers of all levels and all styles of this dance, come away with new knowledge, perspectives, and skills.
Ne-Kajira Jannan interviews Suzanna...
Suzanna offers ongoing classes in central Denver.
Call or write for a schedule.
Suzanna teaches workshops and performs internationally. If you are interested in sponsoring her in your area, email or call her at 970-245-1311 or 303-399-2622.